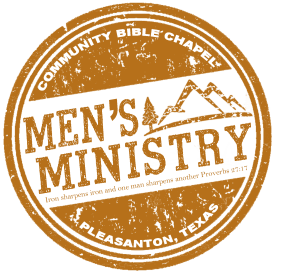 Mission
To achieve a group of men, banded together in the same struggle, with the same heart, for the same mission, through the same power, with the same result-every man mature in Christ.
Vision
To see our men equipped, passionate, and led by the Spirit, unleashing God's love in their homes, their workplaces, their communities, and beyond.
Values
God Centered
Spirit Led
Bible Based
God Glorified
Iron Sharpens Iron
Encouragement
Training
Challenging
Trust
Honor
Vulnerability
Accountability
Enjoyment
Efficient
Fulfilling Mission while leaving space for fulfilling other responsibilities
The men meet every Saturday morning from 8:00-9:00 am for Bible Study. Please call Dan Minnich if you have any questions. (210) 632 6341.